Bank of America: Can I help you?

Customer: Yes, I want to cancel my account. I don't want to do
business with you any longer.
The Bank: Why?

Customer: You're giving credit to illegal immigrants and I don't
think it's right. I'm taking my business elsewhere.
The Bank: Well, Mr. Customer, we don't want to see you do that, but we can't stop you. I'll help you close the account. What is your account number?

Customer: (gives account number)

The Bank: For security purposes and for your protection, can you please give me the last four digits of your social security number?

Customer: No?

The Bank: Mr. Customer, I need to verify your information, but in order to help you, I'll need verification of who you are.
Customer: Why should I give you my social security number? The reason I'm closing my account is that your bank is issuing credit cards to illegal immigrants who don't have social security numbers. You are targeting that audience and want their business. Let's say I'm an illegal immigrant and you've given me a credit card. I have a question about it and call for assistance. You wouldn't be asking me for a Social Security number, would you?
The Bank: No sir, I wouldn't.

Customer: Why not?

The Bank: Because you would have pressed '2' to speak in Spanish. We don't ask for that information when calling in on the Spanish line.
If it does raise the hair on the back of your neck, then
forward it to every human in the country including every
representative in Washington, DC four times a week for a month.

I provided "snopes" for doubters:
http://www.snopes.com/politics/immigration/bankofamerica.asp
---
While the government bureaucrats, local and national, set on their lazy shiftless freeloading rear-ends and collect large salaries and benefits from us, the working taxpayers, the US continues to decline.
Military people continue to die in Iraq, Afghanistan and other places where we should not be. The big lie and propaganda perpetrated on the Americans that "they are defending our freedom" continues. Our freedom is not threatened by these countries, it is a fraud and is promulgated by morons in congress and the military. Generals like war, without a fight they have nothing to do. Military career warmongers are geared to fight and send young men to die, its in their genes.
We pay, the bureaucrats play and the price keeps getting higher. The facts... there aren't enough moral intelligent citizens in the US any longer to keep the balance of right to wrong, not enough people really care anymore. Our so called leaders spend more, pay more attention to, protect and coddle our enemies while our borders are run over by illegals, drugs and criminals pour into our cities reaping havoc on our economy and destroying lives and livelihoods.
The media guides the perversion of the misfits that are controlling and invading America; give free everything to the illegals, tax...tax... and tax some more the decent hard working citizens of our country, isn't there something wrong here? Of course there is, we are not subjects, we are free people with the right to life, liberty and the pursuit of happiness.... not being robbed by the bureaucrats that live so affluently while we pay the bills.
How did America get so off-track? Why is this happening? Who is to blame? Don't blame the bureaucrats and politicians, We elected these parasites and have let them gain more and more power to exhort over us, we are becoming slaves in essence and we are to blame for it all.
It will change when the mindset of the "producers", that's us, the working decent citizens, finally do something and I don't mean do as the morons in the Occupy Wall Street are doing, in fact they represent and epitomize the lazy freeloading culture that is preying on the producers in our country. We must vote the BASTARDS OUT, that is the only way short of revolution!
---
Phone Call
George Bush, Queen Elizabeth, and Vladimir Putin all die and go to hell.
While there, they spy a red phone and ask what the phone is for.
The devil tells them it is for calling back to Earth.
Putin calls Russia and talks for 5 minutes.
When he was finished the devil informs him that the cost is a million
dollars, so Putin writes him a check
Next Queen Elizabeth calls England and talks for 30 minutes.
When she's finished the devil informs her that cost is 6 million dollars, so
Queen Elizabeth writes him a check.
Finally George Bush gets his turn and talks for 4 hours.
When he's finished the devil informed him that there would be no charge and
feel free to call the USA anytime.
Putin goes ballistic and asks the devil why Bush got to call the USA free.
The devil replied, "Since Obama became president of the USA , the country has
gone to hell, so it's a local call."
---
~ ~ A Social Security Must Read ~ ~

For the first time in history, the Democratic Congress will not allow an increase in the social security COLA (cost of living adjustment). In fact, The Henry J. Kaiser Family Foundation predicts there may not be any COLA for the next three years.

However, the per person monthly Medicare insurance premium will be increased from the 2009 premium of $96.40 to $104.20 in 2010 and to $120.20 for the year 2011.
Forward this to all seniors. Remind them not to vote for incumbent senators and congress members in the 2010 and the 2012 elections.
Remember, Congress passed a bill to get their annual increases automatically so they wouldn't have to be burdened with voting for it each year.Who do you think they are watching out for?
The people who elected them as their representatives?
I think not!
If this doesn't make you angry,
you must not have any feelings left at all.

Send this to all seniors that you know VTBO
Vote The Bastards Out
---
One sunny day in January, 2009 an old man approached the White House from Across Pennsylvania Avenue, where he'd been sitting on a park bench. He spoke to the U.S. Marine standing guard and said, "I would like to go in and meet with President Bush."
The Marine looked at the man and said, "Sir, Mr. Bush is no longer president and no longer resides here."
The old man said, "Okay", and walked away.
The following day, the same man approached the White House and said to the same Marine, "I would like to go in and meet with President Bush."
The Marine again told the man, "Sir, as I said yesterday, Mr. Bush is no longer president and no longer resides here."
The man thanked him and, again, just walked away.
The third day, the same man approached the White House and spoke to the very same U.S. Marine, saying "I would like to go in and meet with President Bush."
The Marine, understandably agitated at this point, looked at the man and said, "Sir, this is the third day in a row you have been here asking to speak to Mr. Bush. I've told you already that Mr. Bush is no longer the president and no longer resides here. Don't you understand?"
The old man looked at the Marine and said, "Oh, I understand. I just love hearing it."
The Marine snapped to attention, saluted, and said, "See you tomorrow, Sir."
---
I need four more years to

finish screwing up the country

please... all you brothers out there

help me... vote me in and I promise

more welfare, more taxes on the

hard working citizens, more free

everything for illegals...!

---

A realistic look back and ahead


There was a documentary on CNN about corruption in New Orleans; it highlighted the crooked politicians, civil employees etc in the city. It was no surprise, avoiding political correctness, that they were all Negro. From stealing government funds to murder they are involved in it all; corruption is rampant in New Orleans.

This country has and should respect all people, but the Negro has been pampered, given extra consideration and even accommodated to the extreme change of name, for all intents and purposes, from Negro to African American, a ridiculous attempt to appease a race that fails at most everything, with the exception of basketball and hip hop garbage, even the acceptance of who they are is something they reject! Who was it that lamented..." If you put lipstick on a pig.. it's still as pig", ? This isn't racism, it is simply having the guts to call it like it is.

The government (citizens gone bad) is taking advantage of the lack of control that is exerted over it due to the enormous size that it has grown to. The government, both federal and local, now consists of a majority of special interest representatives for Negroes, Mexicans and illegal aliens, if you aren't in one of these groups you are not well represented!

The government lobby is self propagating and internal; you have people so far removed from reality and lacking intelligent and rational thinking abilities, that we are on a declining scale of growth as a nation of greatness. If you watch any of the many programs on TV you see committees, panels, groups, pundits, supposedly news commentators etc, that do nothing but talk, talk, talk… nothing ever gets done except by the corrupt people that are stealing and looting the rest of us blind.

Congress and our court system is more interested in the welfare of the killers and terrorists in Guantanamo, the illegals that are taking over our country and last but not least, themselves, than they are about the decent, law abiding, taxpaying American citizen! They have learned how easy it is to take from us and give to themselves, how stupid and complacent we are as a society that we won't question or fight back… basically we are perceived as sheep being led to slaughter by the government.

We lose a little piece of freedom everyday, the government gains a little more power everyday, The police are now a "Do as they please" arm of the government. They are supposed to put their ass on the line to protect the citizens… that is their purpose that is what they are paid for. What do the cops do, they protect themselves first, killing innocent citizens etc, because they dare not take a chance… Their philosophy is," Better to kill a guy in the shadows not knowing whether he has a weapon or not than to actually do their job and find out what the facts are". A pathetic change of intent that has insidiously crept into our overall way of dealing with situations in America.

You see a woman on a TV news program with a microphone stuck in her face as a she is asked," How do you feel about your son being killed by the police"? As she crying, she responds, " He didn't have a gun or anything, he was a good kid, why did they have to shoot him"? The story is old and the ending is always the same… the cops get off scot-free and the family suffers the rest of their lives. Now this is just a "news story" unless it is your son, then you suddenly become aware of just how wrong the way the cops do things really is! I guess we all need one of our kids to be murdered by the cops before we stand up and take back the control of our country, before we stop the stupid and tragic way the government runs over us?
Is this what you and I and millions of others fought for?
---
Hello Americans,
The Postal Services created a stamp with a picture of President Obama on it. The Postal Service noticed that the stamp was not sticking to envelopes. This enraged the President, who demanded a full investigation. After a month of testing and $1.73 million in congressional spending, a special Presidential commission presented the following findings:

1. The stamp is in perfect order.

2. There is nothing wrong with the glue.

3. People are spitting on the wrong side.
---
A factual scenario.

JOE LEGAL vs. JOSE ILLEGAL

You have two families: "Joe Legal" and "Jose Illegal".
Both families have two parents, two children, and live
in California .

Joe Legal works in construction, has a Social Security
Number and makes $25.00 per hour with taxes deducted.

Jose Illegal also works in construction, has NO Social
Security Number, and gets paid $15.00 cash "under the table".

Ready? Now pay attention...

Joe Legal: $25.00 per hour x 40 hours = $1000.00 per week,
or $52,000.00 per year. Now take 30% away for state and
federal tax; Joe Legal now has $31,231.00.

Jose Illegal: $15.00 per hour x 40 hours = $600.00 per week,
or $31,200.00 per year. Jose Illegal pays no taxes. Jose
Illegal now has $31,200.00.

Joe Legal pays medical and dental insurance with limited
coverage for his family at $600.00 per month, or $7,200.00
per year. Joe Legal now has $24,031.00.

Jose Illegal has full medical and dental coverage through the
state and local clinics at a cost of $0.00 per year. Jose
Illegal still has $31,200.00.

Joe Legal makes too much money and is not eligible for food
stamps or welfare. Joe Legal pays $500.00 per month for food,
or $6,000.00 per year. Joe Legal now has $18,031.00.

Jose Illegal has no documented income and is eligible for food
stamps and welfare. Jose Illegal still has $31,200.00.

Joe Legal pays rent of $1,200.00 per month, or $14,400.00 per
year. Joe Legal now has $9,631.00.

Jose Illegal receives a $500.00 per month federal rent subsidy.
Jose Illegal pays out that $500.00 per month, or $6,000.00 per
year. Jose Illegal still has $ 31,200.00.

Joe Legal pays $200.00 per month, or $2,400.00 for insurance.
Joe Legal now has $7,231.00.

Jose Illegal says, "We don't need no stinkin' insurance!" and
still has $31,200.00.

Joe Legal has to make his $7,231.00 stretch to pay utilities,
gasoline, etc.

Jose Illegal has to make his $31,200.00 stretch to pay utilities,
gasoline, and what he sends out of the country every month.

Joe Legal now works overtime on Saturdays or gets a part time job
after work.

Jose Illegal has nights and weekends off to enjoy with his family.

Joe Legal's and Jose Illegal's children both attend the same school.
Joe Legal pays for his children's lunches while Jose Illegal's
children get a government sponsored lunch. Jose Illegal's children
have an after school ESL program. Joe Legal's children go home.

Joe Legal and Jose Illegal both enjoy the same police and fire
services, but Joe paid for them and Jose did not pay.

Do you get it, now?

If you vote for or support any politician that supports illegal
aliens...

You are part of the problem!

It's way PAST time to take a stand for America and Americans!
---
Have you ever wondered who first uttered the phrase 'You Gotta Be Chittin' Me''?

Well, it just so happens to have originated through the Father of Our Country, way back when George Washington was crossing the Delaware River with his troops..

There were 33 (remember this number) in Washington 's boat. It was extremely dark and storming furiously and the water was tossing them about.

Finally, Washington grabbed Corporal Peters (remember this name) and stationed him at the front of the boat with a lantern. He ordered him to keep swinging it, so they could see where they were heading.

Corporal Peters, through driving rain and cold, continued swinging the lantern back and forth, back and forth.

Then a big gust of wind and a wave hit and threw Corporal Peters and his lantern into the Delaware . Washington and his troops searched for nearly an hour trying to find Corporal Peters, but to no avail. All of them felt terrible, for the Corporal had been one of their favorites.

Sometime later, Washington and his troops landed on the other side, wet and totally exhausted. He rallied the troops and told them that they must go on.

Another hour later, one of his men said, 'General, I see lights ahead.' They trudged toward the lights and came upon a huge house.

What they didn't know was that this was a house of ill repute, hidden in the forest to serve all who came.

General Washington pounded on the door, his men crowding around him. The door swung open, and much to his surprise stood a beautiful woman. A huge smile came across her face, to see so many men standing there..

Washington was the first to speak, 'Madam, I am General George Washington and these are my men. We are tired, wet, exhausted, and desperately need warmth and comfort.'

Again, the Madam looked at all the men standing there, and with a broad smile on her face, said, 'Well, General, you have come to the right place. We can surely give you warmth and comfort.. How many men do you have?'

Washington replied, 'Well, Madam, there are 32 of us without Peters.'


And the Madam said, 'You gotta be chittin me.'

---

You must give up your rights as Americans

We cannot offend the Muslims

We must let the illegals have their way

We cannot close the border, it wouldn't be fair to the Mexicans

We must lower police test criteria so more Negroes can qualify

We must not pursue action against Negroes that assault whites

We must continue to increase taxes so the lazy and welfare frauds can survive

We must not allow our military to respond with superior winning force

We must continue to put American military for political purposes

We must continue to diminish American's rights in favor of terrorist and others desires

We must fight Arizona in the courts and stop them from defending their state

We must etc... etc... etc...

How much are you willing to give up so this radical

Negro narcissist can play the role of GOD?
From the Desk of Dick Morris

Dear Friend,

My friends at Citizens Against Government Waste have a powerful ad exposing how America might look if we don't change course and China becomes the dominant economic power.

This scary scene takes place in China sometime in the future.

As the Obama administration continues to spend money it doesn't have, China stands by willing to finance the spending spree. They know that in the end they will hold all the cards in our nation's economic future.

Please take a moment to watch this powerful ad — it will knock your socks off!
---
Letter from Reader
Could this be really true in the USA? I hear on the news that they are not doing to good. There people will or should do something about it. They are a strong country it is too bad they picked the wrong leader.So it seems. I am glad to be Canadian. we gripe about our goverment all the time. I am still glad to be living in Canada. Yes we have so much to be thankful for. We also share our food with the Food Banks so the people that can not afford to buy food can go there and get it free.I love Canada it has been good to me for the past 79yrs. Hope it keeps me happy for many more yrs. Joan in Canada
From Webmaster

America

is

the next country

which will have

financial help

from all of us

who

take care of

our economy.

Obama

thinks he can

do

what he wants,

without money

, but everything

comes

to

an

end

after all

.

It

is a pity for

the ordinary

citizen

to have

an

idiot to

govern the country!
---
Moments in Black History
"What we need is safer guns and safer bullets"!
A direct quote of a statement made in a congressional hearing by Jocelyn Elders, former president Clinton's surgeon general... she also wanted to handout condoms and teach masturbation to first graders... this led to her mandatory resignation!
---
Send this page to your Friends
Read My Guestbook!
|
Sign My Guestbook!
Good Old Day´s
---
Visitors online: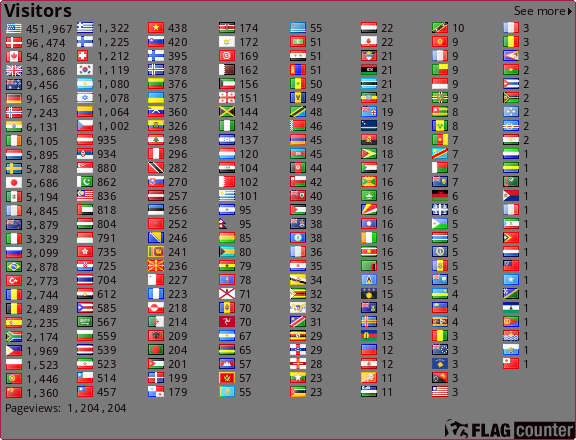 Copyright © 2010 Bent Bay