Clipper
Preikestolen fra oven.
Preikestolen fra siden.
Preikestolen fra siden.
Preikestolen fra neden.
Preikestolen fra neden. (nærfoto)
Klippeformation
Klippeformation
Webmaster in person, smager på den ægte vare!
Gederne venter på at gæsterne giver dem mad.
Thanks to my friend, Ray Finley for this wonderful movie. Se Ray´s Homepage!
Opplev Preikestolen, Kjerag og Lysefjorden .
I Ryfylke har me alt du treng for å få ein minnerik naturoppleving. Utforsk fjella og dei magiske djupe fjordane, opplev det fascinerande øyriket og dei koselege tettstadane.
Gje deg tid og sett deg ned, høyr dei fine lydane i naturen, regnet, vinden, fuglane og fossen.Ver aktiv og gjer kroppen din glad.
Velkommen til ei minnerik oppleving!
Ryfylke - fjordriket som ligg lunt til mellom Stavanger i sør og Haugesund i vest, kan du raskt nå langs Ryfylkevegen (Rv 13) frå Sandnes i sør eller via ferje frå Stavanger til Tau. Frå Haugesund fører E134 fram til målet. Frå Bergen går Fjordvegen gjennom Hardanger og møter Ryfylkevegen i Røldal. Frå Oslo går E134 over Haukeli, Røldal til Sauda eller Suldal.
På sommarstid kan du også bruka den spanande vegen frå aust til Lysebotn over Suleskar. Sjå og kart.
Eit mangfald av arrangement i løpet av året viser dei lokale interessane. Smakfulle festivalar som Norsk Frukt- og Laksefest, Tomatfestival og Øl- og Brødfestival, Ryfylke-dagar, Sauda-dagar, Kulturhaust i Ryfylke, Ungkarsfestivalen, båtturar, revyar, skiarrangement, konsertar og guida fotturar; me har noko for eikvar smak!
Ryfylkevegen, Rv. 13 og Rv. 520, er hovudferdselsåra i regionen. Vegen går høgt og lågt og varierer frå havnivå og opp til 900 m.o.h.
Ryfylkevegen er ein opplevingsveg som fører deg til månge attraksjonar. Med start sør i Sandnes kryssar ein fleire fjordar på vegen nordover: Høgsfjorden, Jøsenfjorden og Sandsfjorden. Ut mot havet ser du det forlokkande øyriket, eit nært tilgjengeleg sommarparadis. Korte avstikkarar frå Rv. 13 kan bringe deg til fjell som majesteten i Lysefjorden; Kjerag, med den utrulege Kjeragbolten og den berømte Preikestolen.
Lysefjorden
You will never forget Lysefjorden. The 42 kilometre long fjord cuts like a crack into the mountains. On both sides of the fjord you will find mountains up to 1000 metres high.
Along the fjord there is much to see. The fjord starts in Høgsfjorden and on the right hand side you will see Forsand with its 700 inhibitants and Oanes on the left hand side. The ferryboat from Lauvvik crosses Høgsfjorden and touch at Oanes.
Further in along Lysefjorden you will be able to see places like Hamn, Helleren, Fantahålå (The cave of the tramper), Preikestolen, Songesand, Fløyrli (hydro electrical power plant), Kjerag and Lysebotn.
There is a ferryboat going from Stavanger, Lauvvik and Forsand to the end of the fjord (Lysebotn).
While waiting for the tourist boat we had time to visit with a local artist who had a little shop right on the water's edge. The sun was out but there were scattered clouds, and it was definitely on the cool side. We saw our tour boat approaching from Lauvvik. It was a smaller car ferry with two upper decks. We were told this particular captain was renowned for his descriptive and sometimes humorous commentary, which turned out to be in three languages. The tour had originated in Stavanger, but from Forsand where we joined, it entered the famous Lysefjord. The Lysefjord reaches 25 miles from Høgsfjorden on the west to the village of Lysebotn at the eastern tip. Here a summer road leads further east. How do you describe a scenic wonder? How many superlative adjectives are there in the English language? We had opted for the round trip (over 2 hours each way) which meant we would be in this fjord for the better part of the day.
Cruising up the Lysefjord
As we started our cruise up the fjord, we, like most on this boat, were trying frantically to capture on film, one magnificent view after another. This was a hopeless task as it was impossible to capture the magnitude of these granite cliffs lining this beautiful body of water. To keep us from droning on like a tour book, we will mention only a few of the many historic and legendary sights. Most people find Preikestolen (Pulpit Rock) to be of special interest. It is an 80 foot square, flat top rock jutting out 2,000 feet above the fjord. This has been a destination for tourists for many years. This "must-see" quality might well be related to what Martin Nag was saying in his book. Between 80,000 and 100,000 persons hike the 2 hours to this spot each year. There are no guardrails, nor safety nets, yet no one has ever fallen. As good tourists, we considered visiting this famous spot, but it was Keith's questionable heart and not Martin's skepticism that kept us away.
We had seen many spectacular pictures that had been taken from the top rim. From below on the fjord, this distinctive feature of the rock cliff was dramatic only in how small it appeared. Only with binoculars could you see the tiny specks that were people peering over the edge.
Her er et lille smil: Prekestolen til 90 års Fødselsdag!
Different country Index´s for The Beat Post International. Click a Flag.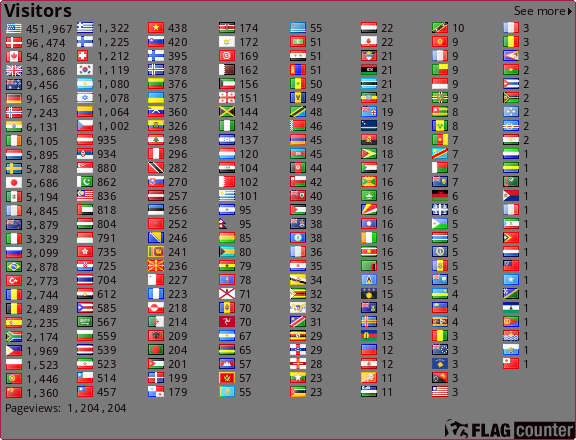 Copyright © 1997-2015 - Bent Bay