Don´t forget: Grand Chorro & on the Top of Mount Everest Down this page
This is wild!!!
Nice Sunday drive anyone?
Stremnaya road, located in Bolivia, is called the road of death
---
Stremnaya Road and Yungas Road: The Roads of Death.



In the country of Bolivia is a truly amazing road carved into the side of a cliff. Stremnaya road and Yungas Road is called the road of death.

The North Yungas Road (also Grove's Road, Coroico Road, Camino de las Yungas, "El Camino de la Muerte", "Death Road") is a 38 to 43 mile road (depending on source) leading from La Paz to Coroico, 35 miles (56 km) northeast of La Paz in the Yungas region of Bolivia. It is legendary for its extreme danger, one estimate is that nearly 100 travellers annually have died along the road — the road moreover includes Christian crosses marking many of the spots where such vehicles have fallen. The road descends from approx. 14,100 ft (4300 m) to 6200 ft (330 m), transitioning quickly from cool altiplano terrain to rain forest as it winds through very steep hillsides and atop cliffs.

Check out these incredible photos.

The road was built in the 1930s during the Chaco War by Paraguayan prisoners. It is one of the few routes that connects the Amazon rainforest region of northern Bolivia, or Yungas, to its capital city. However, an alternative, much safer, road connecting La Paz to Coroico is nearing completion.

Because of the extreme dropoffs, single-lane width, and lack of guardrails, the road is extremely dangerous. Further still, rain and fog can make visibility precarious, the road surface muddy, and loosen rocks from the hillsides above. On July 24, 1983, a bus veered off the Yungas Road and into a canyon, killing more than 100 passengers in what is said to be Bolivia's worst road accident. One of the local road rules specifies that the downhill driver never has the right of way and must move to the outer edge of the road. This forces fast vehicles to stop so that passing can be negotiated safely. The danger of the road ironically though has made it a popular tourist destination starting in the 1990s. Mountain biker enthusiasts, in particular, have made it a favorite destination for downhill biking.

A South Yungas Road (also Chulumani Road) exists that connects La Paz to Chulumani, 40 miles (64 km) east of La Paz, and is considered to be nearly as dangerous as the north road.
---
Stop the Bolivian army from using dogs as live practice targets
The Bolivian army uses live dogs as targets for their soldiers to shoot.

They tie them up in a standing position and use them for target practice.

Nothing more needs to be said about this cruel act.

---
Examine this on on full screen only when you have no altitude apprehension!
Spectacular mount walk

Grand Chorro
This mount path now serves as an access to Makinodromo, the boasted mount area of Grand Chorro in Spanjes Andalucia.
It is the most sinuous and dangerous mount path.
The area of Grand Chorro that in the south of Spain lies it has been boasted under touristen and mount walkers by its overwhelming landscape and klimmogelijkheden,
but tevens also most dangerous passage of Grand Chorro which by workers was built to transport material between Chorro and Gaitanejo.
The Spanish government has to still plans renovate this but until now it of has there not yet come.

Look once well to that mount path the rocks!!
That walk, taken by tourist will make you now yourself.
I for no price would dare that but or you would do that must you yourself but beoorderen.
You will make now in any case a very spectacular walk.
Click on the image below!
The picture shocks what lies, then that your pc. does not have, but then you a too slow Internet connection!

Go but sit this spectakel themselves once experience!
Click link mentioned below
and set-up baffle up to
and takes pilletje
http://www.angelfire.com/ak2/intelligencerreport/scariest_path.html

---

Bekijk dit op op full screen enkel wanneer je geen hoogtevrees hebt!

Spectaculaire bergwandeling

Grand Chorro

Dit bergpad dient nu als toegang naar Makinodromo, het beroemde berggebied van Grand Chorro in Spanjes Andalucia.

Het is de meest bochtige en gevaarlijke bergpad.

Het gebied van Grand Chorro dat in het zuiden van Spanje ligt is beroemd onder touristen en bergwandelaars door zijn overweldigende landschap en klimmogelijkheden,

maar tevens ook gevaarlijkste doorgang van Grand Chorro die door arbeiders werd gebouwd om materialen te vervoeren tussen Chorro en Gaitanejo.

De Spaanse overheid heeft nog altijd plannen om dit te renoveren maar tot op heden is het er nog niet van gekomen.

Kijk eens goed naar dat bergpad langs de rotsen!!

Die wandeling, opgenomen door een tourist ga je nu zelf maken.

Ik zou dat voor geen prijs durven maar of jij dat zou doen moet je zelf maar beoorderen.

Je gaat nu in ieder geval een zeer spectaculaire wandeling maken.

Klik op de afbeelding hieronder!

Schokt het beeld wat, dan ligt dat niet aan je pc, maar dan heb je een te trage internetverbinding!

Ga er maar voor zitten om dit spectakel zelf eens mee te maken!

Klik op onderstaande link

en zet scherm maximaal

en neem een pilletje
http://www.angelfire.com/ak2/intelligencerreport/scariest_path.html
---
Undersøg dette på fuld SKÆRM men kun når De ikke har højdeskræk!
Opsigtsvækkende athos Spadsere Grand Chorrodenne athos vej nu tjener som en adgang til Makinodromo, kunne prale athos område af Grand Chorro i Spanjes Andalusien.
Det er den mest sinuous og farlige athos vej.
Det område af Grand Chorro, i det sydlige Spanien ligger det har været annoncerede under touristen og athos walker ved sin overvældende landskab og klimmogelijkheden,men tevens også mest farlige passage af Grand Chorro som af arbejdstagere blev bygget til transport materiale mellem Chorro og Gaitanejo.
Den spanske regering har stadig planer Renovere dette, men indtil nu har der endnu ikke kommet.
Beskæftige godt til at iværksætte vej sten!!
At gå, som træffes af turisten får dem nu selv.
Jeg for nogen pris ville vove at men eller de vil gøre det må De selv men beoorderen.
De vil gøre nu under alle omstændigheder et særligt opsigtsvækkende gå.
Klik på lænket nedenfor!
Kommer filmen ikke frem har De en for langsom INTERNETFORBINDELSE!
http://www.angelfire.com/ak2/intelligencerreport/scariest_path.html
---
MOUNT EVEREST
This full screen panorama was published in connection with the 50 year anniversary, to honor the first two men who reached the top of Everest on May 29,1953. Edmund Hillary and Tenzing Norgay.
Since then 1,200-1,500 have climbed to the top. Nobody knows the exact number. More than 140 climbers have died on the way.
On May 24,1989, Australian photographer and mountaineer, Roderick Mackenzie, reached the summit, he was no. 271. He made, as far as known, the only 360 degree panorama film view from the top.
THE VIEW FROM MOUNT EVEREST:
360 DEGREES.
When you see the panorama, click the icon on the top right corner to make the image full-screen!
---
Only the Eskimos will have the nerve to do this!!
This is amazing !
This is something I had never heard of so I thought you might enjoy watching.
When the tide is out... under the ice. Click Here !
Very interesting what the indigenous inhabitants of the region have done for ages.
---
Send this page to your Friends
Please take your time and enjoy! More than 2.000 pages in 8 languages!
Different country´s Index for The Beat Post International. Click a Flag below.
Forskellige landes Indeks for The Beat Post International. Klik på et flag nedenfor.
Verschillende landen 'Index voor The Beat Post International. Klik op een vlag hieronder.
---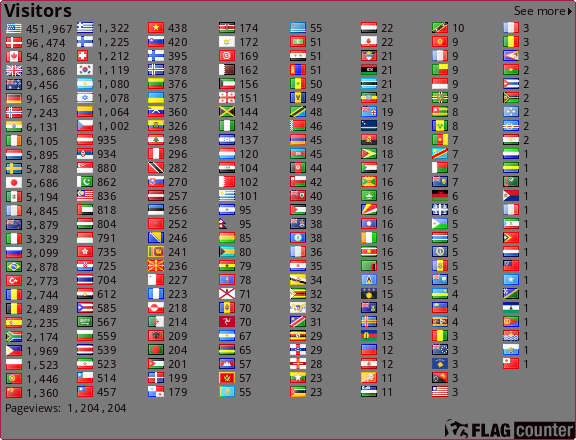 Copyright © 1997-1998-1999-2000-2001-2002-2003-2004-2005-2006-2007-2008 - 2009 - 2010 - 2011 - 2012 - 2013 - 2014 - Bent Bay